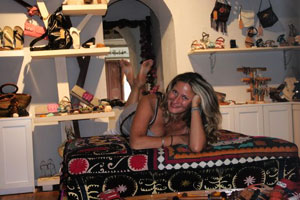 Selin Haktanır has begun her career by designing displays of Stephanel stores after graduated from Faculty of Fine Arts Sculpture department, Marmara University. She first met with the leather by "Gön Deri". After that, her designs of bag collection have taken place on Hotiç displays. After 15 years which also contain working as a lead designer of Hotiç for many years she has started to create her new brand after her decision about settling in Kaş.
While modernising the classical sandals, she designed her products with raw silk and semiprecious stones and she made a point of her designs to be healthy by using leather, vegetal leather and welt. Thus, her new brand identity has been created, too. But, her products must not only appeal to summer season. So, she started to design boots and top boots and she is still working on that…
Brandization of Selin Haktanır name was started by opening of the store called Sandal@ in Uzun Çarşı, Kaş and this lovely Mediterranean town became the centre of her designs. Hand made and custom designs can be made in this store. Name of Selin Haktanır began to mass production with the decision of crossing borders of Kaş by leader shoe brand Hotiç which has proofed itself with its 55 stores and vision for many years.
She headed for natural materials after she started to live in nature. Specific freedom of the sea, the energy of the colours which reflect brightness of the sun, soul of the nature have featured spirits, jolliness and entertaining usage of her designs. Semiprecious stones were used naturally but different from traditional usages until now and they made us to feel naturalness and beauties of the nature. An utterly different ambience has been reached by using carnelians with naturally coloured vegetal leathers and leather footbeds.
Belts, bags and jewelleries which were made of real leather carry the traces of sandals and combine each other completely and they are being exhibited stylishly. Carnelians had been formed by carving by hand, turned to coloured flowers and taken place on belts as buckles. It is possible to see the accessories which were used on the sandals, also on the bags. You can wear all of our products (bags belts, sandals and accessories) on the same time in harmony with each other.
Selin Haktanır's aim is to make it possible for people to meet the soul of the stones as much as possible by blending energy comes from the nature and unique smell of the leather.